Can you forage in the winter?
The challenge of winter foraging in the Midwest is best matched with a creative mind! During cold winter months, some opt to forage décor, using natural elements to create their own winter wreaths or ornaments. Others will create table center pieces from tree branches, nuts, and whatever scraps of nature they can find. For those who prefer to rather stay inside, winter is a great time to practice plant identification and research new recipes for the next foraging season. 
Luckily, foragers have found that you can find plants during winter that are alive and offer nutritional and medicinal value. Different tree roots and seeds can be harvested during this time without worrying about harming flowers or fruit. You can also find different tree saps and oils which offer a variety of practical, aromatic, and medicinal uses. 
At Powell Gardens, we believe that if you pair foraging education with creativity and the right winter clothes, you will have all the ingredients for a great winter foraging adventure! With the launch of our Midwest Foraging exhibition and educational resources, we've worked with expert horticulturalists to create a list of winter forageable items – all local to the Midwest!  
Below you can find information on what and where to forage this winter, including harvest instructions and explanations on the edible and practical uses of each plant. 
Eastern Redcedar

 

Jerusalem Artichoke/ Sunchoke

 

Osage orange trees (aka hedge apples)

 
Ozark Witch-Hazel

 

Sycamore trees 

 
NOTE: This post is created in collaboration with Powell Garden's Midwest Foraging exhibit. To learn more about the exhibit, visit powellgardens.org/Midwest-foraging. Foraging is not permitted on Powell Gardens property. In the interest of public health, safety, and in respect of our conservation efforts, all participants are expected to appreciate this content for educational purposes only at Powell Gardens.   
 Winter Foraged Finds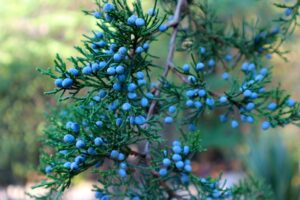 Eastern Redcedar
Juniperus virginiana
Where

: Occurs on glades and bluffs; in open, rocky woods, pastures, and old fields; and along roadsides and fencerows. Pale blue fruits occur on female plants.

Harvest

: Pick berries in the fall and winter to use in recipes. 

Use

: An oil from the resin is used for ointments, soaps, and to flavor gin. Juniper tea can be made by placing a dozen young berryless twigs in a quart of cold water; bring to a boil then allow to simmer for 10 minutes. Strain and use as regular tea, in small quantities.

Recipe:

Juniper berries can be paired with duck to make

wild cedar duck breast

. 

 
Jerusalem Artichoke/Sunchoke
Helianthus tuberosus
Where

: This sun-loving perennial grows in gardens, parks, and roadsides. The tubers are the edible part of this plant. Jerusalem artichokes have classic yellow daisy flowers. 

Harvest

: When harvesting, the plant should be divided and harvested regularly to help the plant grow and keep it from overtaking your garden or yard. Dig up tubers in the fall, preferably after the first frost. Keep half for cooking and replant the remainders. 

Use

: Fully ripe Jerusalem artichokes are sweet and crisp when raw. Use in salads or in a crudites platter. When baked they become very sweet. Tubers can also be boiled, roasted, or sauteed. Gradually introduce these to your diet to avoid stomach aches, specifically if raw. 

Recipes

:

Try

Jerusalem Artichoke Fritters

or

Sunchoke Puree.

 
Osage Orange Tree
Maclura pomifera
Where

: Found in low woods in valleys along streams, edge of woods, pastures, fencerows, thickets, and disturbed forests. Osage orange was introduced to Missouri long ago for use as hedgerows and windbreaks. They are also known as hedge apples. 

Harvest

: When harvesting from a tree, particularly roots, this should be done when the tree is not flowering or putting on leaves, fall through early spring. Hedge apples fall from the tree and are abundant in the fall. 

Use

: A yellow dye can be made from the roots. Hedge apple seeds can be roasted and eaten as well. 

 
Ozark Witch-hazel
Hamamelis vernalis
Where

: Occurs in gravel and rocky dry streambeds, at the bases of rocky slopes, and along streams, and rarely on wooded hillsides in rocky draws.

Harvest:

Witch hazel should be harvested from October to January when it's in bloom. Its flowers, leaves and twig tips can be collected to use fresh or to be dried and used later.

Use

: This species has long been used as a source for making witch-hazel extract, used in shaving lotions and ointments for treating bruises, sprains, skin irritations, and more.

 
Sycamore
Platanus occidentalis
Where

: Occurs in valleys either on gravel bars or in low or wet rich bottomland.

Harvest

: Tap into the tree in late winter to early spring for the highest probability of getting sap. 

Use

: Sycamore's sap can be tapped and boiled down into either sugar or sweet syrup. This sap can also be fermented into wine. You will need a large quantity of sap to make syrup and sugar. The sap can also be used for drinking or cooking. 

 
Winter Foraging Tip: To grow your plant identification skills, seek out multiple sources. Collect several different field guides. This will help your general understanding grow and give you a fuller perspective on the plant. It is your responsibility to learn about the plants you harvest so as not to disrupt their ecosystem, overharvest them, or ingest something you should not ingest. 
Related Posts
Don't know what to read next? Try our randomizer.